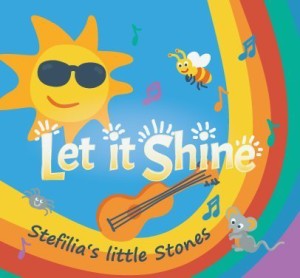 Stefilia's Little Stones, a children's music version of the duo known as Stefilia's Stone, have released this bright, cheery disc for very young listeners. Let It Shine takes the best qualities from singer-songwriters Carrie Rowan and Adrienne Ghilani and filters them into something special and palatable for kids. Both women are moms and they tend to bring that parental warmth and understanding to their lyrics and vocal delivery.
The ladies show their sense of humor with opening track "Bug Spray." Hearty acoustic guitar strumming and warm harmony vocals carry this one well. Lyrics about "icky sticky bug spray" and "goofy greasy sun block" will surely grab a child's attention. The interplay of vocals between Rowan and Ghilani is energetic, fun, and this doubles the emphasis in their lyrical wit with lead vocals, backing vocals, and harmony vocal notes all working well off each other.
"This Little Light Of Mine" incorporates the traditional "You Are My Sunshine" and to hear both ladies individually tackle separate lyrics intrigues with the thickening of the song's meaning. It's uncanny how well these two woman singer-songwriters sound together, either in unison, one shadowing the other, or one backing while the other leads. They certainly made a wise decision to form this duo. Applying their abilities to this children's music CD was also a wise choice. They're naturals.
"Choose Happy" is another ditty that could put a smile on a child's face. Not only do these two moms fill the song with warmth and understanding, they also fill it with talent. Gritty acoustic guitar strumming and brittle electric piano notes make the perfect backdrop for the lush, warm harmony vocals coming from these singers. Their voices fit so well together when they're spelling the word "happy" that they could pass for symbiotic twins. It's like they can feel each other's presence in the song and mesh on instinct.
"Bee Kind," which Rowan wrote with Oen Kennedy, can sound like a late 1960s peace song as well as an encouragement to children to remain upbeat, positive, and nice to one another. There is true beauty in the acoustic guitar and in the piano that offers generous sprinklings of happy notes, major key music that solidly buttress the sweet voices. There is also an instructional metaphor, mentioning how bees spread nectar around to help support their community.
With a folk-rock feel, the vocals on "My Birthday" skitters over a fun run of acoustic guitar notes and their gentle, easeful keyboard support. Kids will like the idea of celebrating each day like it was a birthday. Taking their turns on the lead vocal lines gives this tune two voices to contribute to the texture, and it's even more of a treat when they harmonize. Segue into the "Happy Birthday" song and this joyful ode to another year around the sun suddenly takes on a sweet familiarity.
Sounding like a Broadway musical dance number, "Mouse" moves forward with a playful, strident rhythm. One can almost picture the ladies on a theater stage wearing tights, taps, and top hats while swinging their walking sticks as they move through this clever, springing groove. Describing how to deal with a mouse in the house, the ladies bring a touch of grown up perspective with their shared sense of humor. Jaunty acoustic guitar strumming and alternating lead vocals add a second dimension of fun.
"Oh Well" teaches children patience, acceptance, and forgiveness. Even little tykes need to know when it's time to let it go and move on. The theme of not letting disappointments get to them comes across with a sense of warmth and understanding. This positive advisement is wonderfully buttressed with lush harmony vocals. It's impossible not to sing along with these ladies near the end as they assert themselves with bright, brisk harmonies.
Written by John Gorka, "Branching Out" uses a tree metaphor to express a child's need to reach for the sky. It's more of a folk song that appeals to everyone universally, but it's easy to understand why the ladies chose to include it here. Putting emphasis in the right places with tender harmonies, this tune becomes a push to let kids use their imaginations or to physically exercise their limbs.
Another tune Rowan co-wrote with Oen Kennedy, "My Body Is An Instrument" can teach children about the body's natural rhythm and one's own beautiful singing voice. Bouncy acoustic guitar rhythms and some tender piano tinkling make the listener feel the encouragement the ladies are trying to extend to children. And boy, do the ladies ever sing the heck out of a song. From the bright, wide chorus to their exhortations to find one's own natural musical tendencies, this one's a catchy, winsome treat.
The ladies close out with "Rainbows," a song that suggests children find the bright, positive angles to things that initially might have ruined their plans or even frightened them. Again, these singer-songwriters are moms so they know first hand what kinds of things can make a child frown. Like moms, they also know how to turn those frowns into smiles. There is a bright sweetness to Rowan's voice that makes her accessible to listeners of all ages. There is also the duo's quintessential vocal interplay, enough action going on to keep kids listening while giving older music fans a hook to hold onto.
Ghilani and Rowan have come up with something that any of the parents at their children's shows would want to purchase as keepsakes of their live show. Not only will their younger fans enjoy this disc, there is enough singer-songwriter grist and enough fiber in their instrumentation to keep parents listening along with their little ones. It also helps that producer-engineer-mix master Eric Kilburn got such a vibrant sound out of these two at his Wellspring Studio in Acton, Massachusetts.